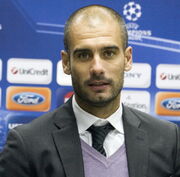 The FIFA Club World Cup is a seasonal association football competition, which began being contested in 2000. Brazilian club Corinthians, under Oswaldo de Oliveira were crowned winners in the inaugural FIFA Club World Championship Final in 2000 against national side Vasco da Gama. Brazilian clubs and managers have also dominated the competition in the early and mid-2000s, winning every tournament in 2000, 2005 and 2006, as well as being the most successful, winning four of the tournaments since 2000. Due to the financial collapse of Swiss-based sports marketing firm and FIFA associate International Sport and Leisure (ISL) in 2001,[1][2] the competition did not take place between 2001 and 2004.
In 2006, the competition was renamed the FIFA Club World Cup,[3][4] with Abel Braga leading Internacional winning the same year.
Pep Guardiola is the first and currently the only manager to have won the tournament with Barcelona on two occasions, leading them to success in the 2009 and 2011 finals; nine other managers have only won the title once. Three managers, Oliveira, Guardiola, and Tite have won the competition with each of the same club twice. The tournament has also been won by six managers, who have been active both as a player and manager, namely Abel Braga, Carlo Ancelotti, Alex Ferguson, Guardiola, Rafael Benítez, and Tite – Ferguson became the first foreign manager to win the title with a foreign club, Manchester United in 2008; Ferguson and Benítez are the only two managers to have won the title with a foreign club. Tite is the most recent manager to have won the FIFA Club World Cup, having won it with Corinthians in 2012.
By nationality
Edit
This table lists the total number of titles won by managers of each nationality.
References
Edit
General
Specific
External links
Edit
Community content is available under
CC-BY-SA
unless otherwise noted.